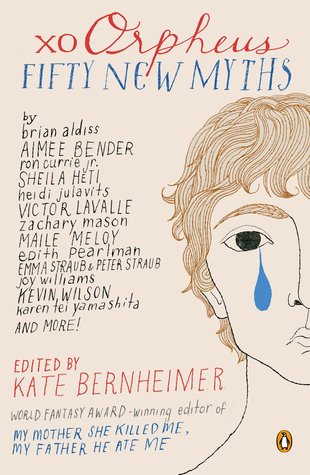 Fifty leading writers retell myths from around the world in this dazzling follow-up to the bestselling My Mother She Killed Me, My Father He Ate Me. Icarus flies once more. Aztec jaguar gods again stalk the earth. An American soldier designs a new kind of Trojan horse—his cremains in a bullet. Here, in beguiling guise, are your favorite mythological figures alongside charaFifty leading writers retell myths from around the world in this dazzling follow-up to the bestselling My Mother She Killed Me, My Father He Ate Me. Icarus flies once more. Aztec jaguar gods again stalk the earth. An American soldier designs a new kind of Trojan horse—his cremains in a bullet. Here, in beguiling guise, are your favorite mythological figures alongside characters from Indian, Punjabi, Inuit, and other traditions.  Aimee Bender retells the myth of the Titans.  Madeline Miller retells the myth of Galatea.  Kevin Wilson retells the myth of Phaeton, from Ovid's Metamorphoses.  Emma Straub and Peter Straub retell the myth of Persephone.  Heidi Julavits retells the myth of Orpheus and Euridice.  Ron Currie, Jr. retells the myth of Dedalus.  Maile Meloy retells the myth of Demeter.  Zachary Mason retells the myth of Narcissus.  Joy Williams retells the myth of Argos, Odysseus' dog.   If "xo" signals a goodbye, then xo Orpheus is a goodbye to an old way of mythmaking. Featuring talkative goats, a cat lady, a bird woman, a beer-drinking ogre, a squid who falls in love with the sun, and a girl who gives birth to cubs, here are extravagantly imagined, bracingly contemporary stories, heralding a new beginning for one of the world's oldest literary traditions....
| | | |
| --- | --- | --- |
| Title | : | xo Orpheus: Fifty New Myths |
| Author | : | |
| Rating | : | |
| ISBN | : | 9780143122425 |
| Format Type | : | Paperback |
| Number of Pages | : | 531 Pages |
| Status | : | Available For Download |
| Last checked | : | 21 Minutes ago! |
---
xo Orpheus: Fifty New Myths Reviews
this book is a collection of stories by authors i have read before, authors whose books i own but have never gotten around to actually reading, and authors i have never heard of before.and like all anthologies, this is a good way to get a crash course on the lot of them. but also true of anthologies, it is a mixed bag in terms of "their appeal to me," of course keeping in my mind that when authors are asked to write within a particular theme, it might not be a true introduction to their general work. but i get the gist.the theme of this anthology is NOT authors rewriting the orpheus myth with their own spin, as i had assumed it was when i did the old netgalley "gimmie" click, but rather it is an exploration of how classical myths can be used as commentary on modern society, and how they function in our current climate. it is a companion book to the earlier (owned-but-unread by me) book, My Mother She Killed Me, My Father He Ate Me: Forty New Fairy Tales, which did a similar thing for fairy tales.in the introduction, bernheimer proposes that classical myths endure because they harken back to a time when gods were very much a part of the daily lives of the populace, and as we became more "godless," mythsechoed back to us from a place of lost power and transcendence. How far had we fallen? How lonely we were in a world without gods!however, in our current "age of the anthropocene," we have ourselves become like the destructive gods, transforming our world and our ecology, and not for the better.With our evolved busy hands and our evolved busy brains, in an extraordinarily short period of time we've managed to alter the earth with such geologic-forcing effects that we ourselves are forces of nature.these stories, then, are our new myths, for the new age "with humans as gods."and it's mostly a bleak outpouring.Oh, you may find a whimsical story here and there in the bunch, and you might be struck by the violence, too. Yet "XO" Orpheus wrote to his beloved, and "good-bye" this book says to the old relationship of literature and myth to the human. Even the whimsical stories in here, even the most violent ones, reveal a gaping anxiety, a primal fear, leading to sadness about what we have done.some are takes on familiar myths like icarus, and some, like baucis and philemon, were entirely new to me.i'm not going to go too in-depth with my opinions and assessments of each story, because that would be a really long and probably boring review, but i do want to just jot down a couple of pithy impressions from each for my own purposesAnthropogenesis, Or: How to Make a Family by Laura van den Berga lovely and surreal story spotlighting the more destructive and problematic aspects of love and parenthood.Argos by Joy Williams this one is about odysseus' hound. an absolute heartbreaker of a story, and i loved it to pieces.The Sisters by Sabina Murraythis is basically girls gone wild with emily dickinson. not with-with emily dickinson, mind you… but i do like a good girl-gang story.Sawdust by Edward Careythis story is haunting and actually quite lovely. it is exactly the right balance between the two, and was what i loved when i read Observatory Mansions. he is so very good at tone and atmosphere. this one came a little close to "too surreal" for me, but it is a myth, right? that's to be expected. i would love to see this published on its own as a children's picture book. i would so pay for that.Friend Robin by Maile Chapmanthis was more like a slow-drawn psychological horror story, and another great one for the mother-adult daughter dynamic.The Veiled Prophet by David B.this is the only sequential-art piece in the book. i have never really responded to david b's illustrations, but the story was nice and creepy, with a really solid ending.Henry and Booboo by Elanor Dymott oh my god, kids, right?? they are little monsters. this is a sharp little coming-of-age piece that makes me super-glad i just bought her novel Every Contact Leaves a Trace and i am really looking forward to reading her long-form.Modern Coyotes by Shane Jones super creepy. i'm not sure what else to say about it. it is very good, and very surprising - the threat does not come from where you think it will and it ends with an astonishingly visual episode.Devourings by Aimee Bender pssssh - i had already read this story in her new collection The Color Master: Stories, but while it wasn't my favorite in that or this book, it is still very good. she does the magical realism stuff really well; keeping it very human and grounded even when writing about ogres.Labyrinth by Ron Currie Jr. a bleak little story about fathers and sons, and that frequently problematic but so profoundly affecting relationship. The Last Flight of Daedalus by Anthony Marra this one i was not crazy about, although i love the idea of following the icarus myth through to "what came next?" it's a perfectly good story, and the ending is very touching, but for some reason, overall it didn't leave much of an impression on me.Daphne by Dawn Raffel this one is great - and it is a perfect explanation-story for a particular urban phenomenon. loved it.Demeter by Maile Meloy this is the first of two persephone-retold-as-child-custody stories. this one is from the mother's perspective, title-duh, and is about loneliness and the distance between younger-self expectations and present-day realities and reminded me of my favorite parts of Cat's Eye, which to me was always better as an aging and "betrayal of the body" story than a "bullying/girls as social manipulators" story. this was one of the more hopeful stories, and i really liked it.Kid Collins by Willy Vlautinyeah, i really gotta read more of this guy. this is exactly the kind of stuff i like when i am in "grit lit" mode. i don't entirely see it as a reverse-persephone story (oh, so i guess that makes it three stories that riff off that myth, i had forgotten this one) but the story itself is just the right mix of downtrodden and possibility with no supernatural element whatsoever. very very solid.Sleeping Beauty by Gina Ochsner i think how much you like this one depends on what kind of a person you are. some might read this as a pure love story, but i'm a little cynical and i found it unstable. it starts out as a story of orphan outrage and ends in love? maybe? there's something about its surface-prettiness that i mistrust, so i am choosing to read it darker than it might actually be.Galatea by Madeline Miller a story of captivity and helplessness and motherhood and sacrifice that still managed to be funny at times. The Hand Manuel Muñoz i was not in love with this one, but i really liked what he has to say at the end, in the space where the authors get to talk about their inspiration or their stylistic decisions: Where i grew up, God and Satan were treated as real. They made frequent appearances in oral stories. Hearing about them was like a promise: sooner or later, they would prove themselves to be not myths at all.The Dummy by Benjamin Percy i feel like this would make a really good x-file. actually, come to think of it - a lot of these would. someone tell someone who can make these things happen. more x-files, but the good standalone ones, none of those long-form alien colonization storylines that take up too much time. The Girl with the Talking Shadow by Kate Bernheimerthis one would make a terrible x-file. but it is still a good supernatural cautionary tale with a tinge of madness and each and every one of the real horrors that girls endure.Wait and See by Edith Pearlman i wanted to like this one, but it just kind of left me cold. the idea of human pentachromaticity is pretty interesting, though. just… not to my taste overallAn Occasional Icarus by Georges-Olivier Châteaureynaudsame with this one. these were both well-written stories, but i just couldn't get into them for whatever reason. oops. karenfail.Killcrop by Victor LaValleah, but THIS one. this was probably my favorite in the whole collection. just really freaky-creepy, and so helpless-feeling with the most chilling final line ever. much loveThe Squid Who Fell in Love With the Sun by Ben Loory this story is pretty much in keeping with all the stories i have read of his - they are great little fables that do the sad/happy blend really well. i would like a stuffed squid, please.Birdsong From the Radio by Elizabeth McCracken another quiet little piece about the hunger of motherhood. i particularly liked her line in the notes that grief contains both prey and predator, fear and rage.The Lotus Eaters by Aurelie Sheehan this one showcases that wonderful-terrible state of teenage invincibility and self-importance and freedom and mysticism, frequently assisted by outside substances.Slaves by Elizabeth Evans a peculiar little story which i didn't really get, but the atmosphere of it was evocative at least - sexual submissiveness and that grasping for escape/rescue that feels like slippery small-town dreams without really knowing what they are dreams of.Drona's Death by Max Gladstonethis one feels the most traditional of all the tales - it doesn't seem to be trying to speak to the modern age at all, but i liked it, and i appreciated the true-myth feeling of it. So Many-Headed Gates by Sheila Heti this one was very slight, but i think it is relatable in its narcotic unspooling of hindsight and missed opportunities and living doggedly, mechanically, with our choices. human condition, indeed.The Status of Myth by Kelly Braffet and Owen Kingthis is a bunch of different stories flowing into another, and they are all really good, the "hunter" sequence in particular, playing with the diana/artemis myth. i dunno who is responsible for what, but since braffet's new book, Save Yourself, has been on my interest-radar for a while, and i do have her other book just sitting here… somewhere, i think i will start there. Narcissus by Zachary Masoni liked this story, but i loved his reason for the choice and the manipulation of the source material. this feels like something oscar wilde would appreciate, but it doesn't have that wilde-wit, it is just a really solid story that is, like so many pieces in this collection, ultimately heartbreaking.Back to Blandon by Michael Jeffrey Leea little prodigal son/odysseus story which again focuses on the father-son relationship and the way we mangle what we mean to say and the fear of disappointing but also about growing up and apart and the experiential divide. with some serious coldness at the end.The Story I Am Speaking to You Now by Davis Schneidermanrobots. wordplay. humanity. not so much for me.The Brigadier-General Takes His Final Stand, by James Butt by Imad Rahmana sort of modern take on the picaresque which is apparently a mash-up of oedipus and icarus, although while i was reading it, i didn't make that connection, really. mythology is so filled with unhappy families…Dark Resort by Heidi Julavitsi liked this one a lot, even after i read at the end that she had put a self-imposed constraint upon herself - to not only work within the confines of the orpheus myth, but to also employ the dogme-rules for filmmaking in the story's construction, if that even makes sense since so many of those rules are for visual and auditory limitations. but whatever, art school nerds, i liked the story a lot, and i loved the energy and even though i roll my eyes at dogme (despite liking a lot of the films), i can't argue with a sweetly polished story.Mystery Spot: 95065 by Karen Tei Yamashitathis kind of choppy stream-of-consciousness sensory overload piece is just 100% not for me. next!Lost Lake by Peter Straub and Emma Straubthis is the other-other persephone-inspired child custody myth, this time from persephone's, or here, eudora's perspective. this is one of the longer stories in the collection, and i love the father daughter team-up to write a story that is largely about fathers and daughters. but it is also a haunting coming-of-age/lost-innocence story, and i liked how slowly it unfurled and how densely it was written for a short story.What Wants My Son by Kevin Wilsoni wanted to like this one more, because i have been wanting to read this dude for a long time, but i am slow on the draw. the story itself isn't bad, i just didn't warm to the subject matter - sullen teen meeting for the first time with the ultimate absentee father: helios, and the "i'll show you!!" attitude of the young. it's not badly-written, so i'm definitely still going to read his books…eventually.Thousand by Laird Huntsame thing here: another author i have been really interested in reading, but the story itself just wasn't my favorite. this one is really short, too, so that might have contributed to my lukewarm reaction. still going to read him, though, just not into this story.Belle-Medusa by Manuela Draegeryeah, this one wasn't for me, either. am i just getting cranky as i plow through this anthology?? am i just getting too much of the theme? i don't think so. this one was just very fantasy-styled, and i haven't gotten into fantasy, really. it's magical realism without the real. the names, the situations, the atmosphere. for people with those interests and backgrounds, this is probably really great, but despite the often-beautiful phrases spoken into the water, i was not in love.i got cut off by goodreads. review continued in the comments. not pithy enough, i guess!!

i have a story in this book called "The Squid Who Fell in Love with the Sun." BUT THAT HAS NOTHING TO DO WITH WHY I'M GIVING IT FIVE STARS

thank you, penguin group!xo Orpheus is a potpourri of different takes on myths. Some are ordinary life mishaps and happenings that draw parallel from old folktales; some are direct takes on the myths in contemporary life with all the weirdness and magic incorporated; still others are jumble of all things new and old, magic and not, wherein it seems the authors themselves get hopelessly lost while telling the stories. In some forest, on a chariot, burning the world or fallen angels, stealing godliness, forgotten pets and absentee fathers, a not-so-simple Irish stew. Likewise, not all caught my eye. There were some that I didn't try finish, I found them so unappealing and I do not life peas. Or cauliflower. Most of these myths, I did not know, like Galatea and Pygmalion, so I read these not with a view in mind to compare but simply as stories with no derivations. Which was probably not the point, and I must have missed out on a lot that I don't know about for un-scholarly ignorance. The point is that, regardless the stories stood of themselves that I could enjoy them independently. The first story, Anthropogenesis, Or: How to Make a Family by Laura van den Berg was a fantastic beginning, a better introduction to the anthology than the introduction itself. Utterly surreal and but making a point on the afflictions of starting a family, the evils of babies. It reminded me of a short story from The Kingdom of Little Wounds in which a mother gives all to her child, feeds herself to her fey baby, who makes blankets from her mother's hair, and the moral is basically that that's what being a parent is. These two stories bite.Argos by Joy Williams is the story of a hound. Odysseus's hound, whom her leaves behind. It's a short, sad story from a dog with an enormous heart. The Sisters by Sabina Murray is supposed to have suspense with a big reveal at the ending but for me, it was spoiled because of the original myth names that are given above each story. Moreover, it was simply boring, even for the mysterious girl gang, and the writing did not build up to the climax. Sawdust by Edward Carey was probably the most surreal of the mix. And unlike Anthropogenesis, it didn't stand as a metaphor or was trying to make a point. It was beautiful and lonely, also a touch terrifying towards the end. Friend Robin by Malie Chapman is a simple story, like the Shoemaker and the Elves, except Robin is a tad temperamental. Not a mind-blowing story, more of a an account. I didn't much care for this one.The Veiled Prophet by David B. was a graphic story whose art didn't have much impact on me, nor did the story which is about a caliph and a prophet, but I loved the ending.Henry and Booboo by Elanor Dymutts is one gut-wrenching story because kids. They can be scary and regretful, and never the twain should meet lest this.Modern Coyotes by Shane Jones was a creepy and surprising one. It's derived from Coyote Myths, duh, but I think it's making more of a point about how we think the danger always lurks outside.Devourings by Aimee Bender, I had already read in her latest collection, The Color Master and loved. But it was better this time round because I knew the story and could love the writing without it. I especially liked the relation between the story and the Cronos which I only figured out, like this second.Labyrinth by Ron Currie Jr., a Daedalus story, uneventful and forgettable, about sons and fathers and the whole loop that begins with one and doesn't end with the other.The Last Flight of Daedalus by Anthony Marra is quite different but more impressive than the aforementioned Daedalus retake. Icarus drowns but what happens next? Very lovely and the writing gives the feel of an inquiring crowd. Daphne by Dawn Raffel was the story of a 'nymph who turned down Apollo's courtship' afterwards. It was pretty awesome and sad and had exquisite writing.Demeter by Maile Meloy is the urban retelling of Demeter's sufferings, a mother who's loses her daughter come every winter. It was simple, non-supernatural and sorrowful. There's also another truth to this story, about this woman longing for her youth, not for vanity but love and joy.Kid Collins by Willy Vlautin is a Demeter-Persephone story but from the perspective of neither. Instead, here we have a desperate, crying mother in a gritty background, and her brother. there's no magic but an urban story of the broken.Sleeping Beauty by Gina Oshner is one I can't make up my mind about. There's something about the setting and the weather and the staring that reminds me of Daughter of Smoke and Bone but not in terms of writing, although this one isn't too bad. I think I liked it but I just don't know WHAT to make of it. I think I'd like to read more of hers.Galaeta by Madeline Miller is the one of two stories where I cheered for the character. Sadly, it was not to be. Here, there be mothers and crazy men. The Hand by Manuel Muñoz didn't impress much; I liked the idea of it, not the product.The Dummy by Benjamin Percy...hmmm... I actually thought it mught take the monsterotica course but it didn't! It was very serious and stuff.The Girl with the Talking Shadow by Kate Bernheimer that made little sense to me on read one, lesser on read two but beautiful nevertheless. It's about madness and worldly troubles with things that don't add up, but that was part of the surreality. I think I'd like to read more of hers, too.Wait and See by Edith Pearlman- I waited and waited but never saw much. Interesting theme- pentachromaticity- but teh story left much to be desired. I like the mother, though.An Occasional Icarus by Georges-Olivier Châteaureynaud- the first of the few that I didn't finish.Killcrop by Victor LaValle HA! UBER-CREEPY/SCARY. The whole helplessness theme going on, a father helpless to save his son and family. This one actually played a cameo in my dream last night.The Squid Who Fell in Love With the Sun by Ben Loory Monster-porn? because why the hell not? It seems I'm very poor at spotting monsterporn. I suck. It was more of an Icarus story to me than the Kraken's, though. It was short and sweet and terrible and moving on...Birdsong From the Radio by Elizabeth McCracken with more of mothers! Still awesome, they are, but not in the same sense.The Lotus Eaters by Aurelie Sheehan is another one that I didn't finish. I think Imma skip these ones, even my short-term impressions.Slaves by Elizabeth Evans was about submissiveness and escapism. I loved the writing and atmosphere.Narcisuss by Zachary Mason was another fantastic one that shone more than others, to me. I loved the new take, I loved the play on mirrors, I loved the obsession and I loved the sad ending.Back to Blandon by Michael Jeffrey LeeAnother story about misunderstanding and growing apart. I liked it, nothing more to say.The Story I Am Speaking to You Now by Davis SchneidermanRobots preaching humanity. Or something. Didn't work for me, but I did finish it. Next I shall finish learning karate-chopping. Hi-yah!Dark Resort by Heidi Julavits was one I liked a lot. The turbulent atmosphere, the teasing omniscience and the retelling of the Orpheus myth. Lost Lake by Peter Straub and Emma Straub is more of Demeter/Persephone but very different from the other two. It's from the child's perspective, and is more about the little distance/difference between light and dark, summer and winter; another theme playing is losing innocence, discovering things you wish you hadn't. I loved the writing style, how it changes tone as the girl moves from mother to father, warm to cold.What Want My Son by Kevin Wilson is a pretty, straightforward anecdote, more like, about a depressed teenager who burns the world. How do I not like that? It's not great and I didn't like the guy much but hey!Thousand by Laird Hunt started out great but lost steam after the second page or something. It was not bad, per se, simply not attractive.The Swan's Wife by Aamer Hussein is a lovely story about two friends with a great cast and a great phrase from somewhere else:Between you and me there is no kinship.Sanna by Kathryn Davis, I don't remember much about, which is weird considering I read it only yesterday and sorta liked it. Which I suppose says it all.Sissy by Kit Reed had the second of the two characters I rooted for. Cruel father, whose cruelty doesn't affect/torment the child so much as the mother's disappointment. Fantastic story.In a Structure Simulating an Owl by Ander Monson was definitely one of the most creative.Betrayal by Sigrid Nunez was fun like none other, except perhaps Sissy. It's very traditional in the telling with face-punch ending.The Hungers of an Old Language by Brian W. Aldiss: I tried to read and got some ways when:she had fulfilled a vital part of a woman's destiny[childbirth]I wasn't liking the story much and that line pissed me off.The White Horse by Sarah BlackmanAnother story whose idea liked more than the execution. The author herself called it:This seems a simple story. Why has it taken so long to tell?Beats me.So now, I am beat and have to prepare for a test. Terrific. Why did this review take so long?

Today, I have to write a review I don't really want to. See, there are negative reviews and negative reviews. Sometimes a negative review is really satisfying, because the book was, at least by your own estimation, perfectly horrid and/or rage-inducing. Times like today, though, the book is quite good in its own way, but that doesn't happen to be a way that coincides so much with your taste. I always feel so bad when this happens with a review book, because I feel like I should have known better than to accept it, but you really can't always know these things. Anyway, from as objective a standpoint as I can get to, xo Orpheus is a great read for scholarly folks, with stories that can be unpacked and considered, but which consisted largely of stories which do not work for me personally.Read the full review at A Reader of Fictions.

Like any collection, XO Orpheus had some really strong moments and just a few stories that didn't particularly appeal to me. "Sawdust" by Edward Carey, "Labyrinth" by Ron Currie, Jr., "Henry and Booboo" by Elanor Dymott, and "Drona's Death" by Max Gladstone were some of the standout pieces in this collection.

NOTE: I received a free copy of this book in exchange for an honest review. Which was, like, ages ago, and I read it and wrote a review, and then fell off the face of the earth in a pit of depression, so um, sorry! Also, this review contains spoilers!I should make a resolution of some kind to read more anthologies. That was part of the thought that was in my head when I requested a copy of this from the publisher to review: I should read more anthologies. I picked one up on a whim earlier this year and quite liked it, getting a couple new authors to check out from it (it was my first exposure to Malinda Lo!), so I figured I'd have the same luck with another anthology. I mean, I have like 60 books in my Kindle I haven't read yet, but I'm always thirsty for new authors, new stories to discover. It's hard for me to talk about my feelings about this book - when I went back through it and started sorting the stories into five categories (loved, liked, ambivalent, neutral, didn't like) I realised how many of them I didn't actually remember anything about. I did go into this intending to give this book a fair shake, which meant committing myself to read every single story in its entirety, but it was when I got to the retelling of Odysseus as the creation story of some kind of robot civilization that I realised with dismay that it was just not going to happen. I decided it would be OK to skip some stories if they were just not engaging me within one or two pages. Given that, I still did read almost all of these stories in their entirety, and later realised that I quite liked a good chunk of them - so with that in mind, I'm going to give this book a solid 3 stars. I consider an anthology a success if I walk away with at least a couple of stories I really loved and whose authors I want to read more from. There were five of those in this book, which is a tenth of the total book. Not bad! And I liked another thirteen of them. Eighteen out of fifty might not sound like much - it's less than half - but I would consider that enough to be worth an investment. Like I mentioned earlier, I separated the stories of this book into five categories: stories I loved, stories I liked, stories I was ambivalent (had mixed feelings) about, stories I was neutral about (usually I did not remember anything about them, or just had no strong feelings either way about them), and stories I didn't like. There were none that I can recall that I absolutely hated so much I wanted to throw the book at the wall, and the stories I disliked were not at all bad stories, just stories that reached me at the wrong time in my life, or were about subject matter that didn't interest me. This book is too long and varied for an in-depth review of even half the stories in it. I'm going to just note which stories I put into which categories with maybe a little commentary about them. There were some broad observations I can make about the book as a whole, though, that I'd like to discuss hopefully briefly. First: this was not a very diverse book in terms of representation. A goodly chunk of it involved stories based on Greek myth, and of those, a good deal were about Icarus/Daedalus or Demeter/Persephone/Hades. There were so many Demeter/Persephone/Hades stories that I had to give them subtitles in my notes: "the lightning pool one," "the abandoned kid one," "the one with the shadowmonster" etc. (There were two stories where Persephone was the child of divorced parents shuttled back and forth between diametrically opposed homes, which I guess is the logical modern reimagining of a Demeter/Persephone/Hades situation.) This makes sense to me, I figured a book called "xo Orpheus" would be mostly Greek myths, but I really would have liked to see more representation. This was a book largely filled with stories about straight white cis people, which is fine, but it made me a little antsy, as a queer person who is rapidly starting to lose patience with stories about straight people. Not because I hate straight people, but because it's often hard for me to see myself reflected in those stories.The sheer magnitude of stories represented in this book made it a little intimidating. I like to look up author info after reading their work to get a little context to the story - an author's background influences their writing a lot, it informs a lot about their point of view of the world, but with fifty stories by fifty+ authors in this book, I just did not have the time or energy to do the digging I would have liked to do. I also started to get a little fatigued partway in and was tempted to just put it down. That's the trouble with anthologies, I feel - you get such whiplash bouncing around from author to author that it can make a book that isn't actually that long take quite a long time to finish. All that said, there is so much variety in this book and even the ones I wasn't too hot on were pretty well-written so I imagine it's a case of different folks different strokes, and I'd recommend it in general. If you're at all interested in mythology and retellings of old folk tales, then this is for you.Stories I loved:Devourings, Aimee Bender (my absolute favourite of all the stories in this book, highly highly recommended; this was beautiful and impactful; days after reading it I am STILL thinking about it)Sleeping Beauty, Gina OchsnerGalatea, Madeline Miller (another story that has stuck with me in the days after reading it and I can tell it's going to influence my thinking and my own writing in the near future)Narcissus, Zachary Mason (same!)Lost Lake, Emma Straub and Peter Straub (my favourite of the Demeter/Persphone/Hades stories, I could have read an entire book just in this world alone! Can we start a petition to make them write a full novel out of this?!)Stories I liked:Anthropogenesis, or: How to Make a Family, Laura van den BergArgos, Joy WilliamsThe Sisters, Sabina Murray (I got really excited when I was reading this because I was thinking it was going to turn out that Emily Dickinson was a werewolf.)Sawdust, Edward CareyFriend Robin, Maile ChapmanDemeter, Maile Meloy Kid Collins, Willy Vlautin Birdsong From the Radio, Elizabeth McCrackenDrona's Death, Max Gladstone (I quite liked this, but I studied the Bhagavadgita and Mahabharata earlier this year in school and came into this understanding a lot of the context for this story that a casual reader unfamiliar with Hinduism might not know.)The Swan's Wife, Amer HusseinSanna, Kathryn DavisBetrayal, Sigrid Nunez (this felt like the most mythological story in the entire book, the one that felt like someone was writing their own original myth based on existant ones?)The White Horse, Sarah BlackmanStories I was ambivalent about:The Veiled Prophet, David B (translated by Edward Gauvin) - this was an enormous disappointment to me because, due to the formatting of the PDF I received, it was entirely unreadable. It looked like a very interesting story and from a part of the world that was not otherwise well-represented in this anthology, but the copy I got seemed to be unfinished in terms of formatting or something just got messed up in the conversion to PDF, because I couldn't follow it at all, half the dialogue wasn't included in the comic panels and what was added on the bottom was impossible to follow. This is most likely a screw-up with formatting with my own copy; hopefully it's fixed in the final version?Modern Coyote, Shane JonesKillcrop, Victor LavalleHenry and BooBoo, Elanor Dymott (in my notes this is "the one incest guinea pig story." I wanted to go more in depth about it and ramble more at you guys about rape culture and blah blah, but this review is already pretty long and I don't think I have the space or time for it. I will say that surprise child molestation was not what I expected or wanted, and if you're triggered by child sexual abuse or rape, take care of yourself and give this one a miss.)The Lotus Eaters, Aurelie SheehanBelle-Medusa, Manuela DraegerStories I was neutral about:Labyrinth, Ron Currie, JrThe Last Flight of Daedalus, Anthony MarraDaphne, Dawn RaffelThe Hand, Manuel MunozThe Dummy, Benjamin PercyThe Girl With the Talking Shadow, Kate BernheimerWait and See, Edith Pearlman ("at her small straight nose that angled upward at a degree more than is usual, robbing her of beauty and instead making her irresistible" - oh, please, please, please authors, please stop it with the "she wasn't BEAUTIFUL, she was [waxes poetic about how beautiful she was]" trope. It's stupid and tired and we see right through it. Also, there seemed to be a typo here? One character is called "Patsy" when she is otherwise called Pansy?)The Squid Who Fell In Love With the Sun, Ben Loory (this was pretty cute but I just had no strong feelings about it)Back to Blandon, Michael Jeffrey LeeDark Resort, Heidi JulavitsWhat Wants My Son, Kevin WilsonSissy, Kit ReedCat's Eye, Donaji OlmedoStories I didn't like:An Occasional Icarus, Georges-Olivier Chateaureynaud ("A young girl's smile means so little, really: they're usually smiling at themselves, at their reflection in the eyes of whomever they're talking to." This was the point where I disconnected with this story entirely. I disagree so strongly with that sentiment that I had to put the book down, get up, and walk around for a bit.)The Sailor Slaves, Elizabeth EvansSo Many-Headed Gates, Sheila HetiThe Status of Myth, Kelly Braffet and Owen King ("forming in shadows like some demon from a Neil Gaiman story" - my note on this line was "uggghhh")The Story I Am Speaking To You Now, Davis Schneiderman (robot one - great idea, very original, but was so pretentious I did not want to read it at all and this is when I started deciding my commitment to read and pay attention to every single story in this book was a waste of my time, and told myself I could start skipping ahead.) The Brigadier-General Takes His Final Stand, James Butt (did not finish)Mystery Spot: 95065, Karen Tei Yamashita (did not finish)Thousand, Laird Hunt (didn't really get it or its connection to Poseidon?)Madame Liang, Lutz BassmannIn A Structure Simulating An Owl, Ander Monson (good idea, beautiful language, but extremely difficult to read and pretentious as hell)A Horse, A Vine, Johanna Skibsrud (so tired of books and stories that shit all over the entire field of psychology! I could write more in depth about this and I might at some point put up a rant about this in my blog.)The Hungers of an Old Language, Brian Aldiss

Lots of promise, but didn't do it for me.Introduction - 3/5: Interesting muse on what's happened. We now know what controls things, unlike our ancestors, so we don't need myths. We've become the gods in the myths. Which is mostly true. The only question is, when will what we create destroy us, just as we destroyed the gods of the past?Anthropogenesis, Or: How to Make a Family - 2.5/5: Okay...? Meh. Just... meh. I felt the deeper meaning there, but it just wasn't hitting me that much. Then again, I know jack shit about Norse mythology. I thought until a couple months ago that Thor and Loki were brothers.Argos - 2.5/5: Another interesting one that fell flat. I loved the idea that this came from -- fate vs. coincidence -- but it was meh. Well written, but I couldn't really care or get into it. A grand total of three pages long. I wanted to like this one, but not for me.The Sisters - 3/5: This one was the longest story to date, but it still missed something. That may be partially my fault because I decided to look at the end note first, just to see if this one was interesting. Which, it was interesting, just not carried out in a way that had me clinging to the edge of my seat.Sawdust - 3.5/5: I wanted to like this one more. It was beautifully written and the story behind it was amazing. I've never heard of this myth -- and I likely never will; I like mythology, but I only know the popular stuff -- but the way the author expanded it to include every old couple, it was sweet. Made me think of how my parents are and will continue to be.Friend Robin - 2.5/5: And this is where I DNFed this thing.The Veiled Prophet - 4/5: JK. I read this one because I wanted to read the comic. Three stars for the story, a fourth for the creativity.Drona's Death - 4/5: And, the last one I'm reading, just because I really want to read a retelling of the Mahabharata. I've never read anything out of the Mahabharata besides a small section of the Bhagavad Gita. It definitely helps if you know the background of the story and some of the key Hindu teachings to enjoy this story. And, I very much like Hinduism, so I enjoyed this one.

Thomas Ross (Editorial Assistant): Sometimes it's just happenstance and the good taste of others that leads you to something new and amazing. This month I read for review xo Orpheus: Fifty New Myths, Kate Bernheimer's anthology of contemporary fiction writers writing new/to/through classic myths and mythological subjects. Anthologies are difficult to review, but this one gave me plenty to write about, due in no small part to Kate Bernheimer's introduction, which is thoughtful, illuminating, and—I think—wrong about the relationship of myth and fiction. My review/rebuttal clocked in well over my poor editor's imposed word limit. But I have to thank Bernheimer for putting together such a stellar group of writers, including my new infatuation: Manuela Draeger.Draeger is a French author of adolescent fiction, but she's also a fictional character created by Antoine Volodine, which is a pen name of an anonymous French writer. In Volodine's stories, Draeger is a containment-camp librarian who writes stories for children, but in France she's published without that backstory. Thank god for The Dorothy Project, who published three of her stories in the US in a delirious, playful Brian Evenson translation called In the Time of the Blue Ball. The stories follow Bobby Potemkine, a makeshift detective who lives in a post-apocalyptic world with startlingly few signs that it was actually our world pre-apocalypse. In my favorite story, Bobby searches for a mother pelican to solve the inexplicable plague of morbidly placid but endearing baby pelicans that have appeared in the city. That turns out to be a tall order, as Bobby soon learns, because it seems "nobody has invented mother pelicans yet." Language means something different in this world, but maybe meaning means something different, too. It's fascinating and fun and I'm going to learn French immediately just to read more.

I am not familiar with all of the myths in this collection. However I did have an enjoyable time reading this book. To be honest I did not read all of the stories. This is one of those books that you can randomly pick a few stories to read at a time and go back to reference to other stories again and again. The stories in this book may seem like new twists on old, classic myth stories but they are not. Well not really in a way. They may be new from the ones you are familar with but the stories are more true to the original stories. I would call this collection of stories the "unedited" version. I have been introduced to so many new authors with this book. The layout of this collection was nice as well. It just flowed from one story to the next. If you are into mythology than you should check this book out.

I had high hopes for this book, a collection of modern takes on old myths. A few of the stories shined, but most of them were only ok, and a few I didn't even finish. Many of the stories were detached, ironic, and dark, but without the sense of grandeur and wonder of the original myths.Many of the authors drew on Greco-Roman mythology, but there were also stories from other traditions. In fact, my favorite story in the book was a retelling of an episode from the Mahābhārata. I've never read the Mahābhārata, so I'm not sure whether I was responding to the modern retelling, the original narrative, or both. In any case, the story was full of grand deeds and epic tragedy--wonder, triumph, and failure writ large, which is just what I'm looking for in mythology.

Oh my, this book was great. It is nice to read short stories sometimes, they take less dedication but are just as rewarding. These stories were great, some of them I liked more than others, but ultimately I can recommend this to all friends of magical stories. Some stories are very rough and so sometimes reading felt quite tough, but I'm happy I picked this up.

Thanks, NetGalley!This is a short story collection of myths rewritten by a bunch (re: 50) of authors. I have a strong interest in mythology, so this seemed like a great idea. And certainly there were parts of it that were a great idea. But it's a big collection (50 stories and almost 600 pages); not every story was interesting or well-done. I will confess that I skipped through quite a few of the tales, especially if the original myth was one I didn't know (which accounts for a large percentage of the book's end stories). Collections like this are difficult to review. I could go through and tell you about each one, but that's exhausting and boring and I didn't even read them all. So here are a few highlights:"Anthropogenesis, Or: How to Make a Family", Laura van den Berg: a retelling of the Norse creation myth."Devourings", Aimee Bender: This one claims to be a take on Cronos, but it ends up being a beautiful, sad tale about giving and taking and love. As enchanting and haunting as all Bender tales are."Galatea", Madeline Miller: This one is a story from the point of view of Galatea, the statue created by Pygmalion. Also very sad, but very good."Wait and See", Edith Pearlman: I have no idea what myth this is supposed to be. The book says it's the myth of human pentachromats, but I am not familiar with such a myth nor can I find one. So let's just say it's an original tale about a boy who can perceive far more colors than a normal human. "Birdsong from the Radio", Elizabeth McCracken: This one is about "child-eating demon, Greek/Lamia", and is a story about a mother who loses her children and starts eating loaves of bread that she imagines is them. I keep saying that all of these are "sad and beautiful", but this is the case."Narcissus", Zachary Mason: This one tries to rectify the (what the author believes is) flawed myth compilation of Echo and Narcissus. What can I say? Tragic and sad and heartbreaking but beautiful."Lost Lake", Emma & Peter Straub: A Persephone tale. The authors (father and daughter) mention that the story kept wanting to lengthen itself, and I could feel it. Kind of disappointing as a short story, but very promising as a sketch for a novel. Wouldn't mind reading more.It's not a terribly consistent collection. Looking back at the table of contents, I'm surprised by how many stories I actually didn't finish because they're boring. But the ones I put forward as my favorites were fantastic, certainly making the whole thing worth the effort. I just wish there had been a little more precision in the editing of the collection; maybe instead of 50 stories, we could have had 20. Or 25. Something.My rating: 3.5/5

I read xo Orpheus: Fifty New Myths, edited by Kate Bernheimer, last year, and am only getting around to reviewing it now. Usually I try to force myself to write my responses to what I've read no more than a week after I've finished it; I'm a fast, enthusiastic reader, but I have a terrible memory and will often struggle to recall plot points, or character names, or anything deeper than a surface recollection. (Is it true playing Sudoku helps improve memory? If so, I need to get on that…but I'll probably forget.)In this case, spending a bit of time away from short story collection xo Orpheus was a good thing. It helped me to determine which stories actually moved me and gripped me beyond the short time I spent reading them, which stories went completely and bafflingly over my head, and which stories produced images or descriptions that are still lingering in my mind today. In a collection that I found to be somewhat frustratingly uneven, some distance was necessary for a more tempered–and hopefully more helpful!–review.xo Orpheus is a collection of fifty "new myths," or myths from a variety of times and cultures that have been altered without becoming unrecognizable. Many are the familiar Greek myths that many of us were raised on–including several different takes on the myth of Persephone–while others come from cultures that may be less well-known to a modern Western audience. Still, all of them dealt in some way with the same very human themes: love, death, loyalty, fear. Life, really. Some of the stories take myths and adapt them for contemporary settings; others expand upon the original myths in their intended time and place by giving us a new point of view or an epilogue. I commend the idea behind this collection, because as Bernheimer herself says in her introduction, myths themselves are timeless; they have had a hold on the human imagination for centuries, and have certainly not lost their grasp on us yet.I've highlighted below the stories in xo Orpheus that made the biggest impact on me, but the beauty of a collection this large, spanning so many authors and so many myths, is that there is truly something for everyone. For example, while some of the more postmodern offerings ("The Story I am Speaking to You Now," "Belle-Medusa," "In a Structure Simulating an Owl") were not to my taste, I know people who would have delighted in their unconventionality!Please read the rest of this review over at bookwanderer!

I'm a big fan of fairy tale and mythology retellings. I generally like to see different people's takes on these familiar tales, and how they might be affected by a modern mindset. So, when I saw this on NetGalley, I grabbed it for review. I was in no way compensated for reviewing this title, and the review copy is formatted to discourage duplication. I think I would be less disappointed if I'd paid money to read this. I wound up forcing myself to get through it so I could offer a fair review.Of the fifty myths presented in this book, there are several repeats. Odysseus and aspects of his journey take up many of these tales, and Icharus shows up in more than a handful. The most amusing of these is a tale about an octopus who falls in love with the sun, which takes a turn for the surreal.I know I'd be a lot more forgiving of the repetition if they hadn't been so tedious. With few exceptions, these tales are overwritten, overwrought, and they suck all the fun out of mythology. Some of them aren't stories at all, but long paragraphs about the meanings of mythology or pseudo-philosophical rambling. Many of them drop the reader into a potentially interesting world with no context, only to further confuse before the story is ended. There's little in the way of character development or insight. The authors do that thing I loathe, where characters act because it's what the story says they do.I do understand that short stories have less room for back story, insight, or navel gazing, but the vast majority of these confounded me. Almost all of them are told in a dispassionate, detached way. The twelfth time I read a story with the exact same tone and literary devices, I started grinding my teeth.There were a few standouts in the anthology. "Friend Robin" is an interesting way to bring brownies into a modern world, and "Lost Lake" manages to avoid many of the above pitfalls while telling an intriguing version of the Persephone myth. "Betrayal" was probably my favorite of the stories, for its modernization while preserving much of the tone and intent of myths and fairy tales. It's not a happy story, but it held my interest and wrapped up in a satisfying way.Fifty stories are a lot to wade through to find three I liked, or four that didn't make me impatient to be finished. I cannot recommend buying this book. All I can recommend is skimming its contents to find the stories you might like, and saving yourself the slog through the rest.

Anthologies are a different sort of beast from what I typically review. In fact, I rarely read anthologies. At least I haven't read one since my undergrad days and the cumbersome Norton anthologies that entailed. But xo Orpheus is far from the literary canon that usually is included in anthologies: fifty authors, fifty new takes on mythological tales. I personally love the idea of a short story anthology. The contributions are bite-sized meaning you can read one or two and walk away for a bit and still get the full flavor of each story, kind of like those individually wrapped Dove chocolate squares. And a lot of these stories are dense and a bite is all you can handle, like a rich, dark chocolate. Anthologies are also a great way to find authors the are new or at least new to you. In this case, fifty voices are represented for you to sample, each one different from the last. Not only did I meet new authors, but I also encountered many myths that I was unfamiliar with. My "To Be Read" list has expanded. These tales are modern retelling of myths and are modern in the sense of form as well as time and style. I love that "The Veiled Prophet" is a comic. "The Story I am Speaking to You Now" is an amazing take on the oral tradition as narrated by robots and is quite brilliant considering how much modern man depends on technology to remember our history. But "The Brigadier-General Takes His Final Stand, By James Butts" feels the most like an anthology piece with all its footnotes which the author, Imad Rahman, cleverly uses to tell a story within a story.Mostly, the success of an anthology depends on the taste of the editor. Kate Bernheimer has collected stories that are not just interesting, but asks readers to synthesize our modern world through the lens of the ancient myths. As with any collection of works, not all were a perfect match for my liking, but that should be expected in a piece with fifty different authors, however, xo Orpheus offers something for nearly every reader.Galley provided by NetGalley in exchange for an honest review. For more review by The Readist, visit www.thereadist.com.

Originally posted on my blog, A Lovely Bookshelf on the Wall:What a varied mix of stories, an eclectic reader's dream come true! From down-to-earth retellings of ancient myths to the truly bizarre, there is something for everyone in this collection. One is even in graphic novel format!For the first half of the book, I couldn't wait to find out what experience each story held. Each story encourages the reader to read the next, and I was devouring them. However, this is a fairly hefty anthology - about 576 pages. For the second half, I found myself needing to set the book aside after a few stories, read something completely different, and then come back to it. Not out of boredom or anything like that, but more out of wanting to keep the reading fresh. As varied as these stories are, they do have the common theme of mythology, which, in its own way, can be a very specific kind of tale.I absolutely loved the brief commentary each writer gives at the end of their work, giving insight into his or her source of inspiration, train of thought, etc. It was like having program notes for each piece. Truly fascinating.I didn't realize there was a previous collection, so I'm going to be sure to grab a copy of My Mother She Killed Me, My Father He Ate Me. Readers who enjoy magical realism in their fiction (to varying degrees) will not want to miss out on xo Orpheus.I received a copy of this book from the publisher via NetGalley in exchange for an honest review. I did not receive any other compensation for this review.

I did like this book. It was very dense and a bit cumbersome to read, though. Many of the stories are absolute works of art, blending literal symbolism and abstract ideas in the best way. I feel that the summary given here as well as the introduction promised something completely different than what was delivered, as many of the stories were only loosely based on myths (or sometimes folklore and fairytales—maybe a few stories that didn't make it into Kate Bernheimer's previous compilation? Not sure why those were included). I liked that the brevity of words, for many of the authors, lent itself to really beautiful, artistically woven narratives. I enjoyed the stories that hinged on pure emotion rather than reason. That aspect feels like the strongest tie these stories have to the myths of the gods and their often reactive, passionate actions. What I didn't like was just how heavy this book was (not literally, though it is pretty dense at over 500 pages). There was so much packed into each word and each story because of their brevity, and they require acute concentration to both read AND consider the inspiration for each. Many are only loosely inspired, and I found myself struggling a lot to find the common threads. Also, some of these stories are just duds. I think it depends on the individual, since there is a wide variety of styles. Everybody will probably find something they like about it—I did, but I'm still just unsure of the success of this as a whole. So, three stars!

After some difficulties (i.e. having initially received a copy missing some pages) I could read this collection of short stories. I found it because Madeline Miller wrote a story for it, and I really love The Song of Achilles.Miller's story, Galatea, was not the worst, but I did not love it either. I suppose it was good, but dark, and I didn't like the sense of despair.I had expected many of the stories to take place in a more mythological setting, but most of them were set in a modern world. I would have preferred them to feel more mythical and magical. Quite many felt grey or desperate or exhausting, and I feel like most short stories are like that, with the exception of some that are comical.My favourites were:• Sawdust by Edward Carey, because it is gentle and sweet• The Last Flight of Daedalus by Anthony Marra, because it is beautifully sad, and set in ancient Greece• Demeter by Maile Meloy, because it is happy and friendly• The Girl with the Talking Shadow by Kate Bernheimer, although even after reading it a second time I can't describe why I like it• Drona's Death by Max Gladstone, because it was charged with magic• Narcissus by Zachary Mason, because I love the atmosphere of the ancient Greek city and its life• Thousand by Laird Hunt, because the gods in this story are fascinatingI suppose I am happy to have read xo Orpheus, but it is not all that I expected.

A diverse selection of short stories, all based in some respect on the idea of myths. Some directly reference myths, while others work with more general concepts, like transformation. Many are accessible, though there are a few that are more experimental / strange.

why can I never finish short story collections? anyway, started off okay then got really good then okay and now I am sick and tired of short stories

If you're interested in mythology, xo Orpheus is definitely worth a try. I wouldn't say it's necessarily a book for everyone, and I didn't enjoy all of the short stories in it, but as a concept I do like it and think that it was well done. It's essentially a collection of myths retold- some replicating or very close to the original story, some less obvious- each with a little explanation from the author of how the story pertains to its particular myth. Each story also informs the reader of which myth it is attempting to replicate, which I thought was a nice touch, since it's not always easy to tell. While most of them follow Greco-Roman myths, there's a nice mixture of other mythologies in there as well. It's definitely not the sort of book you read in one sitting; the different stories all have very different emotional feels to them, so it can be kind of jarring to read too many in a row. I would definitely recommend it if someone wants a book about mythology, but I would give potential readers a heads-up that it may not be what they expect.

Me gustó mucho, aunque creo que si me gusta mucho más My mother she killed me, my father he ate me.Aunque me encantó reencontrar historias que son universalmente famiñiares, y amé la variedad de mitos (obviamente hay muchos griegos y romanos, pero se escapan algunos inuit, de medio oriente, África, Asia del este y hasta uno que otro mexicano) pero creo a varias historias les faltó mantener la sensación de mito de la misma manera que My mother she killed me capturó la esencia de los cuentos de hadas en diferentes reestructuraciones. De la todas formas, las historias son en su mayoría bastante buenas, así que las disfruté independientemente de la cohesión de toda la obra.

Okay, I REALLY hate to leave a book unfinished, but I just can't subject myself to this any longer, because this book makes me feel like I don't like reading. So, yeah, DNF at 33%, 0/10 wouldn't recommend. I mean, most of this stories don't feel like they are even stories, just something unfinished and possibly rejected by other projects. This has absolutely nothing to do with myth retellings, so don't let the description fool you. If the goal of the anthology was to violently murder mythology, and the very idea of magic and shit on the corpses - yeah, it certainly does that.

Like with most anthologies, there were some stories I loved and others that didn't gel with me. I still love the concept behind this books and really loved getting to read the writer's retellings and also their inspiration behind it. My favourites of the collection are: Sawdust by Edward Carey Modern Coyote by Shane Jones Drona's Death by Max Gladstone Lost Lake by Emma Straub and Peter StraubWhat Wants My Son by Kevin WilsonA Horse, a Vine by Johanna Skibsrud The Hungers of an Old Language by Brian Aldiss The White House by Sarah Blackman

Honestly, I was a little let down by this collection. Some stories caught my attention and I wanted a million more words to cover me in the world of that particular author's making. Others... not so much. Approach with caution, I guess.There were only a few myths I wasn't super familiar with, and those also happened to be stories I wasn't as fond of. Not sure if that's a coincidence, the authors, or just my connection with the story.

I mean, I don't know.I did said that I was not disappointed with the retelling of Icarus by Anthony Marra, but that was just one story of the many that were inside this book so I can't just say that the whole entire book was great judging from just a couple of stories that I did enjoy (and yes, I did enjoy several other stories). I'm not saying the other stories were bad, or were written in ways that were not enjoyable, it wasn't something that I particularly like (?). The stories itself were oddly written, but that may be because I wasn't accustomed with some of the writers; some other stories were just plain weird because it feels like it wasn't going anywhere and suddenly it stops.I know it was bias of me to complain about something like that when I particularly enjoy the weirdness of Haruki Murakami's style of writing, but then again this was a short story, so when it goes on and on about something without proper direction and to have it end suddenly, it definitely was not something I would have favoured.

I did not have high hopes for this, as I'd only read books by two of the authors, and didn't like either one of them. Still, this is a decent (though overlong) collection of stories inspired, however vaguely, by mythology from all over the world. Like all anthologies, there are some fantastic tales (The Sisters by Sabina Murray and The Last Flight of Daedelus by Anthony Marra are particular favorites), some truly dreadful ones, and a bunch that are just okay. The trouble with anthologies is that so many people who write short stories forget to include the story part: it's just a bunch of descriptive passages with nothing ever actually happening. I would not have complained had the selection here been trimmed down a bit, but I understand the appeal of a nice round number like fifty. I also question the decision to order the tales by myth, meaning for example that all the Icarus tales were next to each other. Of course, this was not consistent: the story inspired by Demeter & Persephone was near the beginning, while the one just about Persephone came much later. I most appreciated the afterwords provided by each author or translator, explaining the connection to their chosen myth (or with mythology in general, as some chose to do). In short, I found this to be an interesting literary experiment, if not to my particular taste. Do not pick it up expecting modern retellings of classic myths. Instead, think of it as a general anthology with mythological elements thrown in.

This book disappointed me. I loved Kate Bernheimer's fairytale anthology, but I think something about the framing of this as "man has killed god and replaced him with his own technology" really set this up to be full of boring-ass white men writing like they think they're Hemingway or Bukowski, and ew. There was also a lot of weird uncomfortable cultural appropriation. Here are the stories I think are worth checking out: "Anthropogenesis, Or: How to Make a Family" by Laura van den Berg, a lovely retelling of the Norse creation myth"Devourings" by Aimee Bender, on ogres and marriage and children and loss (retelling of the Cronos myth)"Friend Robin" by Maile Chapman, which is about a brownie, so, as a lifelong Girl Scout, I'm glad it didn't suck (also this is more fairies than myths)"The Lotus Eaters" by Aurelie Sheehan, teens on shrooms in an abandoned mini-golf course"Lost Lake" by Emma and Peter Straub, easily my favorite in the collection, a retelling of the Persephone story that has a lot of interesting gender stuff"Belle-Medusa" by Manuela Draeger, a very odd post-apocalyptic tale about language and perceptionOh look I didn't like anything written solely by a man. How surprising. Honestly, I'd just go read those six stories and thumb through for anything else that catches your eye in the moment in a bookstore, and then put the book back on the shelf.Anyways, I'm disowning this one and leaving it in the book recycle tinylibrary near work.

This collection is not as good as the previous collection, though it does have slightly more international feel (several stories are translations). Despite the title, there is more than Greek mythology in play here as well. Perhaps because it is sadder, the term that Bernheimer uses in her introduction. Perhaps. But it also felt less magical and, in some cases, more like an audition. Regardless, there are some stunners in this book. In particular, "Labyrinth" by Ron Currie Jr, which uses the famous maze to tell about a different type of being loss? The best story in the collection is "The Squid Who Fell in Love with the Sun" by Ben Loory. It is lovely, funny, touching, and beautiful. It is rivaled, though it does surpass, "Sawdust" by Edward Carey. "Devourings" by Aimee Bender does something to right the ignoring of a central character in some fairy tales. There are several versions or influences by Demeter in this collection, so many that after awhile they seem to bleed together. Perhaps this is the reason why the collection is not as good as its older sister.

I'd read many of the authors included in this anthology and not a clue about many others.Although I thought "myth" would signal things more obviously mythic, the pieces grew on me, one by one, in all their diversity and difference and reworking of ancient tales.Hadn't thought of "XO" as farewell or leavetaking; instead it's become the easy sign-off for "love." Kate Bernheimer, editor and included writer, does both, I think, in gathering the forces for the book.I'd never heard of David B. - The Veiled Prophet is amazing.Also so liked:Ron Curry, Jr - Labyrinth (Daedelus)Ben Loory - The Squid Who Fell In Love With The Sun (the Kraken)Imad Rahman - The Brigadier-General Takes His Final Stand (Oedipus)Elizabeth Evans - Slaves (Maenads and Sinbad)Kit Reed - Sissy (Sisyphus)Johanna Skibsrud - A Horse, A Vine (Trojan Horse)Kate Bernheimer - The Girl with the Talking Shadow (Hades)I also liked the way each story was followed by the writer's sense of source.