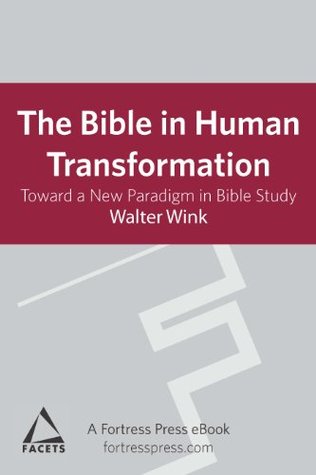 s/t: Toward a New Paradigm for Biblical StudyPreface: The book's general rationale 1/Bankruptcy of the Biblical Critical Paradigm: Bible criticism is bankrupt as it's based on inadequate method, false objectivism, uncontrolled technologism & separated from vital communities. A new paradigm is required. 2/Is Biblical Study Undergoing a Paradigm Shift? Declaring historics/t: Toward a New Paradigm for Biblical StudyPreface: The book's general rationale 1/Bankruptcy of the Biblical Critical Paradigm: Bible criticism is bankrupt as it's based on inadequate method, false objectivism, uncontrolled technologism & separated from vital communities. A new paradigm is required. 2/Is Biblical Study Undergoing a Paradigm Shift? Declaring historical critical research methods bankrupt, Wink demands a new paradigm constellating presuppositions, beliefs, values & techniques making biblical content & intent accessible for human development today. 3/Toward a New Paradigm for Biblical Study: Recommending dialectical hermeneutics as the new paradigm, Wink critiques biblical objectification in contemporary scholarship, arguing for the use of scholarly critical tools to bridge gaps between personal spiritual quests & the text, using sociological insights & depth psychology. Conclusion: This book calls scholars to change focus from paradigms of professional success in the discipline to more personal involvement with the bible's intent as well as its content. Appendix by Elizabeth B. Howes, Ph.D....
| | | |
| --- | --- | --- |
| Title | : | bible in human transformation toward a new paradigm in bible study facets |
| Author | : | |
| Rating | : | |
| ISBN | : | 19177215 |
| Format Type | : | Kindle Edition |
| Number of Pages | : | 96 Pages |
| Status | : | Available For Download |
| Last checked | : | 21 Minutes ago! |
---
bible in human transformation toward a new paradigm in bible study facets Reviews
Walter Wink was the instructor of the Introduction to the Christian Scriptures course taken in the first year and of the course on the gospel traditionally ascribed to Mark in the third year of my studies at Union Theological Seminary in Manhattan. In the first course, a big one, I got in trouble with his teaching assistant for refusing to employ secondary sources for our frequent exegetical papers. Going to see the great man in his office, I explained that I was trying to get at the bible like generations of Christians have, particularly in the protestant and popular traditions, by using the text to interpret itself, i.e., by intertextual study of the Greek and translated English mss. Not being of Christian background, this seemed to me a preparation necessary were I to get up to speed and be able to critically study secondary materials. He agreed, letting me proceed. The t.a. was pissed, but Wink was in my good book from then on.Another good thing to note about Wink was one of our earliest assignments in class. We were to read the gospels with magic markers in hand, distinctively coloring those portions that were the same between one or more of them. This was to have us each discover for ourselves the evidential basis for the Q hypothesis--in other words and simplifying a bit, that Mark was first and that authors/redactors of Luke and Matthew had both Mark and a lost collection of sayings (Q = Ger. Quelle, source) attributed to Jesus at hand when they did their versions. Thus the first three gospel are called "synoptics", i.e. they tell comparable stories from overlapping source materials. John, however, is found to be out of the loop. The exercise, while time consuming, was convincing and should be required of all students of the gospels. The second course had two thrusts, methodological and exegetical. The methodology of it was outlined in his recently published Bible in Human Transformation. The exegeses were all about Mark, whether done as papers or as part of the communal process of the classmembers in discussion and debate. It worked, but then we were a good group and Wink was an ideal group facilitator, leading without appearing to lead.

This little book is definitely a scholarly one, and I must admit, that by the middle of it I was getting a bit lost in the rhetoric. So given that this book is at a higher level than I am able to fully comprehend, I can't properly assess how well the Author has made his argument. I did appreciate the introduction and conclusion :)

I picked up this slim volume at a used bookstore in B'ham only to discover the book in its entirety is available for free online at religion-online.org. Here is the link: http://www.religion-online.org/showbo...I have appreciated Wink's critique of the institution and powers over the years and since I have an interest in hermeneutics and what the Bible means I happily scooped this up to see what Wink would contribute to this discussion. Bearing in mind that this book is almost 40 years old, I expected it to be someone dated and not up to speed on the various directions the discussion has gone. This is true, but in a lot of ways Wink was a shaper of the dialogue.Wink begins this book with an assertion that the Historical Critical Method is bankrupt. By this he doesn't mean that is of no value, but he proposes new management, allowing it to serve a different end. he sees as problematic the fact that Biblical criticism ignored the intention of texts,retreated to the false consciousness of objectivism, only asks questions which its discipline (and disciples) can answer, has been cut off from the wider community, and harkens back to polemical context which no longer exists.On each of these points, Wink's critique seems to be incisive, though he does seems to speak of "biblical criticism" in absolute terms which goes beyond warrant with particular practitioners (a face he will circle back to in conclusion when he addresses the academic guild as 'a power' that scholars have to oppose).Wink proposes an alternative paradigm, which owes something to Ricouer's naivety, suspicion, second-naivety. Wink's schema is as follows:1. Fusion N(1) negation of the fusion through suspicion of the object2. Distance N(2) Negation of the negation through suspicion of the subject3. Communion (p.19-20)Phase 1 involves moving beyond the unity of western culture and traditions and the Bible to the objectification of the text. It is here that Biblical criticism does its work of getting us behind creedal statements and dogma, so that we can examine the text dispassionately and discover what it really meant. Phase 2 involves applying our critical lens to ourselves where we confront 'our own emotional predisposition not to be unsettled, our easy acquiescence to contemporary questions, languages and perspectives.(34)" Phase 3 involves bringing these two phases into critical dialectic to discover what the biblical world in its particularity has to say to our human condition. The end result which Wink envisions is a sort of post-critical reading of scripture which transforms individuals and their communities. In order to accomplish this Wink draws on the insights of psychotherapy and a sociological and ideological lens to help us identify the places in which the Bible confronts us and our world. What I appreciated most about this book was Wink's critique of where Biblical criticism has brought us. As mentioned above, he does cast this critique in absolute terms. This means his claims are exaggerated in some quarters, but he names issues that every Biblical scholar of faith must wrestle with.In his positive program, he correctly addresses the two horizons of interpretation: text and reader (here given the names of object and subject, respectively). Where I am uneasy with Wink's program is that he seems to critique the tradition, more than his own starting point. Wink is a theologically liberal New Testament scholar who taught at Union. He expects human transformation in the text. He does not necessarily expect to encounter God. Traditional beliefs about God are redefined in physchological and sociological terms (Wink buys in to Bultmann's demythologizing program after all). In one fascinating account of a group bible study session, the Holy Spirit is redefined as 'life-transformative process' (59). This antithesis to the tradition and traditional theology is exasperated by the fact that Wink fails to recapture a theology of church. It is true that he wants to bring his training in Biblical criticism back into the service of the church, but he doesn't advocate reading the Bible by the rule of faith. He wants to get behind doctrinal and creedal statements and not impose them on the Biblical account. In a sense, this is a guild concern. Biblical studies exists to study the Bible not theologize, but the theological tradition does frame our understanding of texts and shouldn't be so easily cast aside.Still Wink is insightful about how the Biblical text can challenge individuals, social and political institutions. I would be pleased if more Biblical scholars of whatever theological bent were as committed to listening to the personal and structural implications when we allow ourselves to be encountered by the Biblical text.

Wink's assessment of biblical criticism is more relevant and true today than he first wrote this book. Scholars and preachers alike would do well to acknowledge its truth.